Indonesia to ban all cryptocurrencies including Bitcoin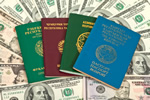 In a surprise announcement, Indonesia has vowed to ban all forms of cryptocurrency including Bitcoin, as it considers the rupiah is under threat.
Bank Indonesia governor Agus Martowardojo made the Bitcoin announcement as part of a basket of remedies for the ongoing unhealthy business practices, arbitrations and business control by parties Indonesian law cannot reach. The measures are intended to prevent damage to the structures of Indonesian industries.
As in the rest of the world, canny investors in the country have flocked to Bitcoin as an alternative investment likely to rake in huge profits, with $50,000-worth of transactions taking place every day of the year. To be fair to Indonesia's Central Bank, Bitcoin as a decentralised digital currency has been a boon to those with less than honest ambitions who've taken advantage of undetectable flows of money laundered by terrorists, dodgy businesses and out-and-out criminal enterprises.
However, those who simply use Bitcoin for genuine everyday purchases, as well as for investment-inspired Bitcoin owners, won't be at all happy at the news. During 2017, the currency's value has soared from around $1,000 to over $10,000, causing some experts to expect Bitcoin owners to cash out in a rush at a considerable profit should the government announce it's to go ahead with the ban. This, according to other investment gurus, might be a huge mistake, as values may well continue to soar.
Others believe the lack of Bitcoin regulations suggests the current high value is simply due to a speculative bubble which could burst at any time in the near future. Rumours continue to circulate about the role Bitcoin pays in organised terrorism, especially in the Middle East. According to the chairman of an Indonesian-based independent financial agency, virtual money is almost impossible to track via the internet's payment platforms as the Bitcoin encryption controls fund transfers and is not governed by any of the world's central banks.
Various online accesses including mobile phones as well as laptops and desktops provide an easy way to transfer huge amounts of capital in exchange for Bitcoin currency. More than 12 million Bitcoin wallets now exist, and it's not clear how many of these are located in Indonesia. The country doesn't yet recognise such currency exchanges although it does support Paypal, the transfer facility used along with Bitcoin to finance bombings in the country's capital. Should the Bitcoin ban be introduced into Indonesia, it may well prevent an escalation of terrorism, but its effect on genuine expat investors might well start an exodus to cryptocurrency-friendly destinations.