Portuguese PM refutes claims he urged youth to emigrate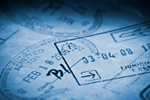 Portuguese Prime Minister Pedro Passos Coelho denies telling the nation's youth to "look abroad" for work opportunities as the country struggles to deal with its worst economic recession in decades.
With a deep economic recession and spiralling unemployment, the PM's comments on emigration in recent times have attracted widespread criticism.
But Passos Coelho has hit back at the claims, explaining that qualified teachers either sought out alternatives in countries where Portuguese was spoken or experiment with other career ideas in order to live with dignity. However, he insisted that did not mean he was advising people to leave.
The prime minister denied encouraging the country's youth to look abroad for work, describing the stories as an "urban myth". But reports from the Iberian country allege that in 2011 he said emigration was key to solving the unemployment woes, before urging the youth to "leave their comfort zones".
Data from the Portuguese Statistics Institute revealed that the unemployment rate dropped from 14.6 per cent in April 2014 to 13 per cent for the same month this year.
The country signed a 78bn euro bailout scheme in 2011 with the European Central Bank, the International Monetary Fund and the European Commission.