Graves filled with suspected trafficking victims found in Malaysia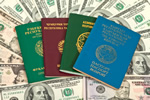 Malaysian authorities have revealed that they have unearthed a number of graves in abandoned camps along the border with Thailand, where Myanmar's Rohingya Muslims had been being held by human traffickers.
Malaysia's police chief Khalid Abu Bakar revealed that some of the graves contained multiple bodies, and said that one of the sites was only around 100 metres from where 26 corpses were exhumed from a grave in southern Thailand earlier in May.
In what is an ever increasing crisis, in the past two weeks alone, over 3,600 people – around half of them Rohingya from Myanmar and the other half Bangladeshis – have landed in Malaysia, Thailand and Indonesia.
Thailand announced earlier in the month that over 50 police officers had been transferred because of human trafficking links in the south of the country. The victims were reportedly taken to jungle camps where they would be held until their families could pay the money required for the traffickers to release them.
Earlier in May, Malaysia said it would not tolerate human trafficking of any form.
Meanwhile, Australian Foreign Minister Julie Bishop announced on Saturday that Indonesia had told her the majority of boat people attempting to enter Australia were Bangladeshis and not Rohingya.
A recent rise in emigration from Myanmar and Bangladesh has resulted in a refugee crisis, with thousands of migrants either drifting in often unsafe boats in the Bay of Bengal or having to be rescued and placed into cramped camps in Malaysia, Thailand, Indonesia or Myanmar.
Abu Bakar said that he was "deeply concerned" graves that were purportedly linked to people smuggling had been found on Malaysian soil.