Hungarian youths leaving in droves as emigration almost doubles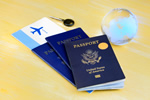 During 2014, the amount of Hungarians who emigrated increased by 46 per cent compared to the previous year according to numbers compiled by Hungary's Central Statistical Office (KSH).
Some 31,500 Hungarians left their home country for at least a year to seek work elsewhere . The number of 'real' emigrants is most likely to be higher than this, as statisticians such as the KSH are only able to use data obtained regarding people who have disclosed their decision to leave to the authorities. Many people leave Hungary without reporting it and these people are not included in the statistics obtained by KSH.
The recent figures show that not only has the amount of people moving away from Hungary increased by 46 per cent in one year, but that the current rate of emigration is six times more than it was before 2010.
Kopint Tárki's chief researcher, Ágnes Hárs, said that this brain-drain is certain to continue into the future due to the current economic climate, the state of public services and the country's overall mood. She added that the government's education policies are also not attractive, which could speed up the rate of emigration for young, pre-university Hungarians.