More than a third of British degree students looking to study overseas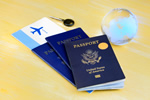 Spurred on by a sense of adventure and the decidedly lower cost of degree courses at overseas universities, increasing numbers of British students are packing their bags.
Results of a recent survey by the British Council have revealed that 37 per cent of degree course students are considering universities in the USA, Australia and several EU countries rather than applying to British universities. America is the most popular destination with 33 per cent of those polled indicating the country as their first preference, 17 per cent more than in last year's poll.
Australian universities attracted just nine per cent, and France and Germany trailed with five per cent. Significantly, of the 2,630 persons polled 26 per cent were aware that government scholarship programmes could help with the costs of overseas degree-level education.
However, most students felt that more information should be given about scholarship opportunities, and others were concerned about language difficulties, fitting into a different country's culture and the costs of living abroad. Reasons given for choosing to study overseas included better job prospects after graduation, the high cost of studying in the UK and the thought of being in debt for student loans for decades after leaving university.
The British Council offers tens of thousands of work and study opportunities every year, with the aim of helping young, talented Brits get the best possible start to their careers. The government's Strategy for Outward Mobility is expected to raise the numbers of young people studying abroad, either for first degrees or PhDs, although it has little to say about the potentially permanent loss of the UK's brightest and best to other countries.