Dramatically increased immigration to New Zealand may stimulate economy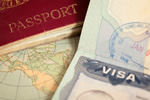 New Zealand's most popular newspaper is calling on the government to allow more immigrants into the country in order to improve its long-term economy.
In an editorial comment, the New Zealand Herald is urging the government to loosen up on immigration and drastically increase the number allowed in. Unless this is done, the editorial states, it will become far more difficult for New Zealand to attract entrepreneurs and qualified professionals in the future.
The paper's editorial comment was based on the results of the 2013 census, put back from 2011 due to the Christchurch earthquake. The census's headline figure shows a slowdown in population increase from seven years ago, with growth of 5.3 per cent against 11 percent from 2001 to 2006.
The Herald believes the fall is due to fewer immigrants deciding on New Zealand as a country where they can prosper. As with many other first-world countries, New Zealand's population is ageing and birth rates are falling, with over 14 per cent of citizens aged over 65 and over 73,000 aged over 85.
The census also shows the demographic ethnic makeup is changing, although people of European and Maori ancestry are still in the majority. Those of European descent totalled three million, and those of Maori descent around 600,000.
The sharpest increase was in the number of Asians, who now comprise just under 25 per cent of the total population, with India and China the major source countries. The newspaper points out that migration to Australia, the UK and Canada is much harder now, even although all three countries historically prospered as a result of immigration, wuth New Zealand able to profit from easier immigration,laws..
Making the country more attractive to would-be immigrants, according to the Herald, would draw entrepreneurs committed to job creation and stimulate employment opportunities for locals and migrants alike. A growing population, the editorial stated, leads to more opportunity and more jobs.