Singapore property market shrinks due to worsening world economy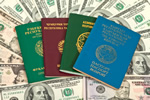 For expats looking to buy property in Singapore, allowances should be made for the possibility of a worsening global economy.
For decades, Singapore has been a magnet for talented expat professionals looking to make the city state their home from home. As a result, the housing market has remained stable, with optimism still the prime sentiment in spite of warnings from experts of a possible decline in the face of an increasingly unstable global economic outlook.
Right now, the growth in home loans is stagnating, foreclosures are rising and developers are indulging in hype and hot air in order to encourage more buyers for their upscale lifestyle offerings. It has to be said that the Singapore property market is one of the highest-priced on the planet, although salaries and bonuses for expats working in the financial sector allow enough for a few luxuries on top of basic accommodation, to put it mildly. Even so, the government has been attempting to control rising property prices by a combination of higher tax rates for developers and investors and lower loan limits for purchasers, but the private property index is now at its highest for five years.
Leading real estate agents are telling it like it is, with one advising local media it's wrong to qualify the market as hot at the present moment, especially as supply is still outpacing demand. The former 'buzz' in the sector is now far more difficult to locate, with no projects being fully sold out for the past two years and still more coming onto the market almost every month. Realtors are hoping a mass expat exodus from Hong Kong may ease the strain, but are privately admitting even that won't take up all the slack.
For new expat arrivals in Singapore, the underlying uncertainty in the property market could well be a chance to bag a bargain in this still sought-after location. Singapore's property auctions are a good place to start, as mortgage defaults and foreclosures are still rising. Buy-to-let in the city is alive and well, with rental prices slightly up over the past year and forecasted to keep rising, albeit slowly.
The only real danger nowadays is the world's worsening economic outlook, caused mostly by the threat of a Trump/China induced recession in world trade. If gloom and doom is to be the way forward, expats with patience in their bones should be able to strike property bargains hand over fist, simply by waiting for a while.