New Zealand immigration scam derided by immigration as unsuccessful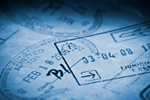 An immigration and employment scam uncovered by a Kiwi company is being described as 'not very successful' by New Zealand's immigration authority.
The scam placed would-be migrants in high-paying jobs for which they had no qualifications in order to obtain permanent residency. According to visa services general manager Peter Elms, the scammers' record of getting permanent residence for its victims could be published as a 'how not to do it' guide as a lesson for other fraudsters.
Elms told the press that Immigration had been aware of the scam for six months, adding that further investigation is necessary as other individuals and companies are expected to be heavily involved. Of only a few residence applications uncovered at present, just one seems to have been successful, he said, adding that cash demands for job offers should be a warning to applicants that a scam is underway.
Meanwhile, Dennis Heath, owner of the My Group IT company accused of working with the scammers, is denying any knowledge of wrongdoing, although a whistleblower, Sam Narayan, filmed a meeting with a Jerry Lee, who promised him a job and residency for a payment of NZ$45,000. In a later meeting, Narayan was told by Lee that My Group would provide the job once payment was made.
Heath admits his company employs immigrants, saying that only foreigners had the necessary IT skills. Although denying any association with middlemen, including Lee, he admitted that his human resources department may have taken calls from unknown persons offering to bring migrant job applicants for interviews.
My Group is under investigation by immigration officials in respect of allegations made in August, 2013. At the present time, 15 permanent residency applications associated with the company have been filed, and it appears that My Group's several individual Facebook pages conflict with each other as regards employees.