Canadian government to reopen family sponsorships next month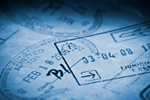 From the beginning of January, the Canadian immigration office will begin accepting new applications for parent and grandparent family sponsorship visas.
According to Immigration Minister Chris Alexander, the massive eight year backlog which caused the suspension of the programme has been reduced to half its size over the last two years by concentrated effort. The decision to reintroduce the programme will be welcome news for expat families and their parents and grandparents who wish to join them in Canada.
In order to prevent the backlog from becoming to big to handle again, new applications in 2014 will be capped at 5,000. Immigration officials are claiming they will be able to process acceptances at the same levels of those in 2012 and 2013, during which time around 50,000 parents and grandparents were welcomed into the country.
The slightly less than good news is that the financial requirements for sponsorship have been increased. According to the former immigration minister Jason Kenney whilst announcing the upcoming changes last May, the new criteria will ensure the families of those admitted will be able to give full support to their relatives, although at the time many families were unhappy about the increases.