European graduates may emigrate due to long wait for jobs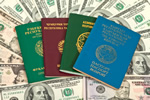 Recently released survey results indicated that graduates for European universities can expect to wait for at least six months before finding a job.
The survey noted that graduates are submitting at least 60 applications before being considered for a position, however well qualified they are. The issue is expected to also affect a high number of British students now studying in Europe in order to avoid the swinging increases in UK university fees.
More than 50 per cent of this years' graduates leaving European universities have serious concerns about their chosen careers, with many forced to consider emigrating outside Europe to get on the jobs ladder. The figure is even higher in Spain, Portugal, Italy and Greece, with 80 per cent of graduates worried they will never get career opportunities.
Almost 50 per cent of Spaniards and Greeks are ready to move overseas, with Greece the hardest hit as its youth unemployment is now running at 62 per cent. Business degree graduates are in the worst position, as banks and major companies are cutting back rather than hiring.
Overall, European graduates can expect to spend just under six months job-hunting and filling in forms, with those in Spain and Greece looking at almost ten months before they find a suitable job. Many are now applying for unpaid internships in order to get experience of the world of work.
According to those determined top try their luck overseas, the UK is the favourite destination, followed by Germany with its relatively stable economic outlook. Engineering graduates in particular are heading for German car manufacturing companies, with BMW and Porsche at the top of the list.
The survey of over 320,000 graduates from across Europe also noted a shift towards public sector jobs, particularly amongst business school graduates. It also found disenchantment with long hours and overmuch responsibility, with status, a high salary and corporate social responsibility unimportant when choosing an employer.