Providing undocumented US Immigrants a direct path to citizenship could boost the economy by $1.4 trillion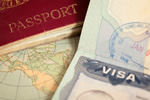 A recent study conducted by the Center for American Progress suggests that granting undocumented immigrations immediate citizenship would boost economic growth by $1.4 trillion.
A breakdown of this development showed that tax revenues would increase by $184 billion and create 203,000 jobs spanning over the next decade. This suggests not only a partial solution to improving the US economy, but an emphatic nod to the pro-comprehensive reform side of an on-going political debate.
Authors Robert Lynch and Patrick Oakford explain in the report that "unauthorised immigrants are currently earning far less than their potential, paying much less in taxes, and contributing significantly less to the US economy than they potentially could."
Professor E. Nuttle, the chair of Department of Economics at Washington College, and Lynch himself spoke to The Huffington Post and said that within five years of being granted citizenship, a previously undocumented employee would earn 25% more income annually, with these wage increases causing a "ripple through the economy" as immigrants pay taxes and stimulate national fiscal development.
Lynch and Oakford then went on to examine the economic differences between providing legal status to undocumented individuals in 2013 and waiting the statutory five years to grant citizenship. Research indicated that delaying citizenship would mean a correlative delay in the increase of immigrant income: it would take twice as long for wages to rise by 25%, leading to a less concentrated positive impact on the economy.
Lynch said that 'the timing of immigration reform has a huge impact on the overall economic benefits… The sooner you provide legalisation and citizenship, the greater you maximise those benefits.'