Survey shows a quarter of UK millionaires planning emigration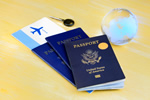 A recent survey has revealed that 22 per cent of Britain's super-rich are planning to move overseas.
Research conducted by Lloyds TSB International indicates that the number of millionaires considering a move abroad has risen from 19 per cent to 22 per cent over the past year. The news comes as figures released by the Office of National Statistics confirmed a rise in long–term emigration of eight per cent.
To June 2012, 155,000 Britons emigrated overseas, an increase of 12,000 over the previous year's figures. Numbers of those leaving the UK permanently have been on the increase for several years, with more leaving than arriving in 2012, giving a net migration figure of 79,000.
Director of Lloyds TSB International's private bank arm, Richard Musty, agrees with the figures, saying that they reflect the bank's experience with its customers. Growing numbers of UK citizens, he added, are leaving to live and work overseas.
According to Musty, the English-speaking countries of Australia, Canada and the US are favourite destinations for the ease of finding a job, although France and Spain are still popular. Changes are taking place in the emigrant profile, with more younger people now leaving for the higher salaries and low tax regimes in the Middle East, while families prefer to settle in suburban Australia.
Reasons for leaving included the UK's steadily worsening weather, concerns about rising crime and anti-social behaviour, with many respondents citing the high cost of living. High taxes still features as a reason for emigrating, although fewer are concerned then cited it in last year's survey.