Irish Canadian Immigration Centre?s first year an unqualified success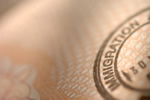 The Toronto-based Irish Canadian Immigration Centre is now a year old, and has offered assistance to with everything from visas through jobs to health advice to thousands of Irish immigrants.
The dedicated outreach centre is filling a much-needed gap in the immigration process for the many thousands of Irish immigrants attracted to a new life in Canada. Whilst its primary focus is on immigration issues such as visas, work permits and permanent residency, it also runs a website offering jobs.
Another of its essential services is a series of regular workshops on taxation, employment and other newbie matters. As a result, it's become a one-stop shop for reassurance and comfort as well as for the practical needs of recent arrivals.
According to its director, Cathy Murphy, new arrivals become stressed by misinformation and disinformation about visa and work permit issues on the internet, and need a face-to-face meeting to put their fears at rest. She appreciates the difficulties involved a move to a new country, and encourages migrants to attend the workshops.
Canada is the most popular migration destination for many Irish people seeking relief from unemployment and poor economic prospects, with the Irish quota of the new International Experience Canada visa filled within four days of its release.The new centre is a combination of four more traditional advice and assistance organisations, and is clearly getting it right for its clients.