Scared couple emigrate to Australia after robbery shooting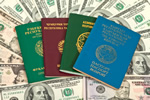 A couple who were arrested and held in police custody after the husband shot at intruders during a burglary at their cottage have now left the UK to start a new life in Australia. Tracy and Andy Ferrie were arrested a month ago and claim they have been in a living hell ever since. Two men have now been handed four year prison sentences for the robbery.
Mr Ferrie, who admitted to opening fire with a legal shotgun he used for clay pigeon shooting, was being held by police facing a charge of GBH. He said that he learnt while in custody that the charge could possibly be increased to attempted murder. He added that he had only used the weapon to protect his petrified wife.
Mrs Ferrie's mother, Hazel Towell, told the Telegraph that the couple had been planning to move to Australia and that the current situation meant they had emigrated sooner than they had intended because they feared retaliation from the burglar's relatives.
Mrs Towell said the couple had returned briefly to their cottage to clear it out saying the ordeal meant they never wanted to see the property again. She added that they managed to get their visas for Australia after they were told they would not be facing criminal charges.
According to Mrs Towell the pair have not informed any family or friends where they will be settling in Australia because they are still worried about retribution from the jailed men's families.
,