11 Indians with invalid immigration visas detained in UK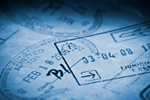 Eleven Indian nationals, accused of either overstaying their visas or entering the UK illegally, were arrested following an inspection of two overloaded vehicles in Lincolnshire. The eleven are being held in detention centres awaiting their deportation from the country.
Official sources report that the inspection was conducted after receipt of a tip by a team which included the Gangmasters Licensing Authority (GLA), the UK Border Agency and the Lincolnshire police.
After examining the legal status of everyone in the vehicles, as well as applying fingerprint scanners to verify identities, eleven Indian citizens who had either entered Britain illegally or overstayed visas were uncovered. One Pakistani national was also found to be staying in the country unlawfully.
The UK agencies involved in the May 17 operation suspect that the migrants were going to work on a Lincolnshire farm without having proper documents to work in Britain.
Both vehicles were reportedly overcrowded, putting the safety of the passengers at risk, and violating transport regulations. This was seen by the GLA as a breach of their licensing terms, said the sources.
Rachel Challis, who works at GLA's Lincolnshire immigration team, says the agency is now cracking down on immigration violations in the county. Any foreigner who is in Britain illegally should have zero doubt that they eventually will be discovered and removed from the country, she added.