Canada MP slams immigration denial of Down Syndrome woman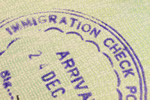 As reported by CTV, a New Democrat MP is demanding that the Canadian government overturn a decision barring a Indian family from emigrating to Canada, whose son lives in B.C., because their full-grown daughter has Down Syndrome.
Kevin Patel, the son who lives in Vancouver, wished to sponsor his family to enter Canada and become permanent residents. However, Immigration Canada denied the request because, it explains, the sister's condition may pose an excessive burden for the nation's health and social services.
At a news conference, Patel questioned the government's priorities, asking if the goal was to see immigration as "a nation-building exercise" or as a "commercial project" where only "young" and "smart" people can fund the economy. He asked if the state should treat immigrants as commodities rather than as people.
Don Davies, NDP citizenship critic, said the government's decision is not upheld by any facts but is instead based on prejudices of people with Down Syndrome. Mr Davies, who outlined his apprehensions in a letter to Immigration Canada based in India, called the daughter's condition "mild Down Syndrome."
Mr Davies argued that the immigration officer had reached a "baseless decision" that, even though she would not be a burden on the medical system, the daughter would be a burden on the social security system. This conclusion is not upheld by any facts and represents an obsolete stereotype of people with Down Syndrome, he added.