Study shows Thailand toxic smog linked to increased respiratory disease and death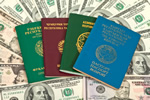 According to a medical report, Thailand's northern regions are now hotspots for major respiratory diseases including asthma and lung cancer.
For several decades, Thailand's northern provinces have been a refuge for expat retirees looking for the comforts of year-round hot weather combined with a reasonably inexpensive cost of living. For brief periods after the end of the rainy season, burning of crops and forested areas both in Thailand and other neighbouring states has resulted in pollution from the fires forming in valley areas such as Chiang Mai and Chiang Rai as polluted air is swept in and trapped by the surrounding mountains.
As this is a regular event, many expat retirees leave during the dry season for fresher air in Thailand's more southerly regions, returning once the rainy season begins. However, this year was the worst on record, with Chiang Mai's air quality so far off the charts that it was named the planet's worst city for air pollution several times. The foul air lasted far longer than is usual, with a recent medical report confirming its toxic effect on locals and expatriates alike. Chiang Mai and the rest of Thailand's northern region is now a hotspot for asthma and other dangerous respiratory diseases.
For those who dismiss global warming, the report makes scary reading, as it was based on mortality in Thailand and its links to respiratory disease deaths, all of which are far higher in the north of the country. Health threats from air pollution, it states, are all too real to be ignored. The study itself was based on World Health Organisation reports on air pollution and asthma showing respiratory diseases are on the increase worldwide.
Focusing on 12 major health threats and their standard mortality rates, the Thai study revealed a verifiable cluster of high mortality rates due to lung cancers, asthma and COPD in every northern province in Thailand as well as in several far-southern provinces adjoining Myanmar. For expats considering permanent retirement in Thailand, this is bad news, especially if there's a predisposition to chest ailments such as bronchitis, with more focused studies clearly needed,
According to the vice-president of the country's Thoracic Society, other factors in the triggering of respiratory illnesses should be taken into consideration. However, it has to be said that the initial study referred to the effects of northern smog between 2001 and 2014 and did not involve the 2019 readings considered by many to be the worst in living memory.