Costa Rica now a major destination for eco-expats and international retirees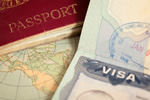 Formerly a haven only appreciated by expats from the USA, Costa Rica is now one of the world's most coveted destinations for international retirees.
Expats have been arriving on Costa Rica for at least 30 years, but until recently the vast majority were retirees form the USA wanting a warm, friendly and welcoming place in which to live their later years. Now that retiring overseas is as normal as planning an annual holiday to the same destination, expats from across Europe and other world destinations are discovering the country's spectacular charms.
One of Costa Rica's biggest attractions is its position as a famed ecotourism hub crammed with spectacular natural features including waterfalls, rushing rivers, soaring mountains, tropical beaches, rainforests and even volcanoes. Those in love with the natural world will think they've died and gone to heaven, as the entire little country is full with the beauties of nature. With the genuinely warm welcome given by locals as well as supportive expat communities, new arrivals won't have time or reason to feel isolated or friendless in their new environment, as fitting in is as natural as breathing! Costa Rica's language is Spanish, but English is spoken widely, especially in areas favoured by expats.
Ecotourism is still the country's major appeal, with its rich biodiversity of flora and fauna, its many Caribbean and Pacific Ocean beaches and its national parks and protected regions. The army was abolished some 80 years ago and the country has been largely at peace ever since. The climate is tropical year-round and the various micro-climates produce more than the usual four seasons, but it's all based on the 'dry' and the 'wet' season.
For a developing country, Costa Rica is relatively expensive, with many costs similar to their equivalents in the USA and Canada but less than prices in Europe. For retirees, the country's healthcare services and social care are excellent, with many professionals training in first-world countries and bringing back their skills to serve locals and expats alike. The capital's hospitals are first class and prices are far cheaper than in first-world countries. All told, Costa Rica's appeal to expat retirees as well as those looking to start a small business is stronger by far than in many alternative destinations.