National Survey states that over half of Greeks want to emigrate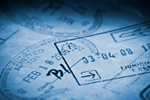 A new survey has released that 55 per cent of Greek citizens are prepared to leave the country if they are able to find better jobs abroad.
Due to an increase of unemployment caused by the financial crisis, over half of Bulgaria's neighbour to the South are ready to emigrate according to the local newspaper Vima.
In 2014, 341,334 Greeks have designed European style resumes so that they can apply for jobs in the EU.
According to the recent survey, the majority of citizens wanting to emigrate were between the ages of 21 and 35. The number of people prepared to leave the country is higher than that of Spain, Italy, UK and Germany.
A separate study also found that 55 per cent of residents from Greece said that they would like to emigrate in order for gain professional development and to seek new jobs.
The top three countries for Greeks wanting to emigrate were Great Britain at 18 per cent of those surveyed, Switzerland at 13 per cent and the United States of America at 12 per cent.
Greek agency ICAP recently conducted a survey which showed that 47.3 per cent of people who worked in offices were only willing to emigrate if it was to a nice country with a job with higher wages and involved qualified labor. The number of Greeks who stated they were extremely likely to emigrate came out at 16.8 per cent whilst 35.9 per cent said they wanted to stay in Greece.