Almost 300,000 irregular migrants arrived in EU in 2014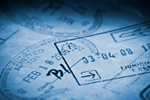 More than quarter of a million irregular migrants travelled to the EU in 2014, over twice the number of the previous year, according to Dimitris Avramopoulos, the commissioner for migration and home affairs.
The commissioner told the European Parliament that the figure, which was in excess of 276,000, represented a 138 per cent rise on 2013. He revealed that of that figure, around 207,000 arrived via the Mediterranean Sea, a hotbed for smugglers as a result of the huge numbers fleeing Syria and other Middle Eastern and African countries.
However, smugglers are also taking advantages of the desperate plight of the migrants and abandoning many of them at sea. Avramopoulos explained that the smugglers were taking new routes across the Med and packing hundreds of people escaping war and conflict into their vessels.
Since September, 12 cargo ships found to have been smuggling people have landed on European shores, the majority of them in Italy. The commissioner insisted that a more comprehensive approach and better coordination would help authorities learn more about the routes taken and how smugglers were taking advantage of the migrants.
He went on to say that the EU and Turkey were in close contact on how to adapt new strategies given that the Eurasian country was becoming an increasingly popular smuggling route.
Around 3.5 million Syrians have fled to neighbouring countries, and Avramopoulos said that 36,000 have been awarded places in EU countries; however, he insisted that Brussels must raise the number of refugees allowed to resettle in the bloc.