Boat capsizes in Gulf of Aden; 24 Ethiopian migrants dead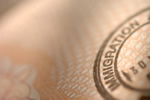 Twenty-four Ethiopians have drowned after the boat they were travelling in sank off the coast of Yemen.
The migrants, who had been trying to enter Yemen illegally, died after their boat capsized near the port town of Mocha, in the country's central Taizz province, according to the Yemen Interior Ministry. It added that the bodies of 24 migrants had been recovered, but the search for survivors was ongoing.
The ministry said the migrants set sail from Ethiopia, but that it was unsure the exact number that were initially on the vessel. It noted that there may be survivors still out there, but that the number of dead could rise, adding that the identification process of the drowned migrants was ongoing.
It was not the first tragedy involving Ethiopian migrants this month, with a further 70 drowning after their vessel sank in a similar location early in December. Authorities in Ethiopia have yet to comment.
Thousands of migrants flee countries on the Horn of Africa due to factors such as war, poverty and drought in search of a better life each year. Many aim to hit Yemen before often heading further east. However, the journey is treacherous and usually involves sailing on poorly maintained rickety boats, resulting in numerous fatalities.