New Zealand to introduce simpler process for student visas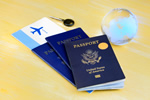 New Zealand, a long-term favourite destination for students from many countries, has announced that a new, more straightforward visa application process will be introduced next year.
The E-visa student visa scheme will allow paperless, fully electronic, online applications as well as online payments, simplifying a task which has been the bane of students' lives for a while. The scheme is also expected to be widened to include tourist visas, in the hope that it will attract more international holidaymakers to the islands.
At the present time, some 67,000 international students are studying in New Zealand, providing a steady revenue stream for the country and its higher education facilities. The new visa model is expected to increase the number of applications still further.
Meanwhile, the battle to win the country's upcoming general election is hotting up, especially as regards migration controls, foreign property purchase and the Kiwi monetary policy. New Zealand First's leader, Winston Peters, spoke recently about his party's intention to disallow foreign incomers from purchasing New Zealand property.
Peters is including foreign property investors as well as migrants in his manifesto, possibly with the intention of not going down the road of attracting Chinese millionaires by guaranteeing permanent residency as part of an upscale property deal. He's also betting on a reduction of migration numbers as a way to curb housing shortages in Auckland.