Australia to woo Chinese millionaires with relaxed immigration requirements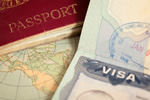 With its eye firmly on untold numbers of Chinese millionaires, the Australian immigration authority is considering more relaxed visa rules.
The Oz immigration department is revisiting a visa scheme introduced last year with a view to making its requirements less stringent. Its aim is twofold – to attract more millionaires from mainland China and to clear a backlog of applicants by easing regulations.
Migration agents and lawyers are claiming the requirements are too strict, and applications are taking too long to process. Australia's Significant Investor Visa is just one of several offered by first-world countries in the race to attract the ultra-wealthy.
Overseas individuals who invest upwards of A$5 million are offered permanent residency, with 90 per cent of the take-up at present accounted for by Chinese applicants. The present crackdown on corruption in China is believed to have spurred a good number of very wealthy Chinese families to find a new home elsewhere, paid for by ill-gotten gains stashed in offshore banks.
So far, 1,497 applications have been received, and only 286 have been processed. The delay is believed to have been caused by applicants' reluctance to provide full financial information about their wealth and sources of funding to the Australian government.
The requirements review is sure to cause problems for the immigration authority, as Australia doesn't want dirty money but needs to find a way to ensure pristine investments without driving away applicants. The new evidence rules are due to be announced in November, and the government is hoping that they will attract rather than repel the right type of Chinese immigrant, however wealthy.