UK court ruling supports UK citizen spousal financial requirements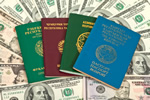 In spite of a 2012 high court ruling that the new financial requirements for UK citizens bringing in non-EU spouses and children were unjustified and onerous, a Government appeal has now been allowed.
The controversial new Minimum Income Requirement rules forced returning UK citizens wishing to bring in their non-EU spouses and children to prove either earnings of upwards of £18,600 or capital of at least £62,000. Campaigners claimed that the new law would break up families, cause hardship and infringe UK citizens' human rights.
Initial legal challenges in the High Court resulted in Mr Justice Blake ruling that the financial requirements were a 'disproportionate interference in genuine spousal relationships'. However, the latest High Court ruling on the Government's appeal has resulted in the new law being upheld, in spite of the fact that half the UK working population earns less than the £18,600 threshold.
According to Ruth Grove-Rights, a director of the Migrants Rights Network, the judgment will have a devastating effect on families now separated due to the new law. Thousands of British citizens and UK residents, she said, have put their lives on hold, with children having little or no access to one parent and couples unable to live together.
Grove-Rights added that the ruling is a 'shocking infringement of the inalienable right to family life' which should not be made subject to the amount of money earned', and promised the charity's campaign will continue. Chair of the All-Party Parliamentary Group on Migration Paul Blomfield MP told the media that the judgment was a tragedy for thousands of families, adding that a cross-party group of MPs would continue to press for reform and change.