Illegal immigrant father freed on bond after daughter pleaded with Pope Francis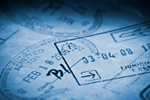 It seems to one young girl who journeyed to the Vatican to plead with the Pope over her illegal immigrant father's imminent deportation that miracles really do happen.
The 10-year old Californian girl had travelled to Rome with a small immigration reform activist group to attend a general audience given by Pope Francis, She met the Pope and, after giving him 1,000 letters from children in similar circumstances, begged him to intercede on behalf of her father with President Obama at their meeting the following day.
After Jersey Vargas's pleas and the Pope's sympathy went live on international television, a relative of the family helped with funding a bond for Mario Vargas's release from immigration detention, and the family is now reunited again. Vargas came to the notice of the immigration authorities when he was arrested late last year for driving under the influence, and was later transferred to immigration detention to await deportation.
A family relative, unaware of the situation until he saw Jersey on TV, topped up Vargas's bail fund to the required $5,000 and he was released under bond, with his fate to be decided later by an immigration judge. All the family are now hoping for the best possible result, and are grateful both to everyone who contributed and to the Archbishop of Los Angeles, who arranged Jersey's audience with the Pope.