Danish immigration deports Thai mother and child after Danish husband dies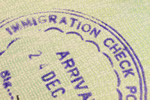 Suthida Neilsen and her daughter by a previous marriage were refused permission to stay in Denmark after Suthida's Danish husband died of cancer in 2012.
Im Nielsen was just a baby when her mother met and married Johnny Nielsen during his time in Thailand. On returning to Denmark, little Im settled in with her new extended family of grandparents and cousins, and soon learned to speak Danish as her first language.
The family lived in Aabybro, and Im soon had many friends of her own age, integrating well into the new culture and starting school when the time was right. Tragically, Johnny fell victim to cancer and died in 2012, leaving his wife and stepdaughter brokenhearted and being comforted by their Danish extended family.
However, in September this year Suthida and Im were told by Danish immigration officials that they were to be deported back to Thailand as, supposedly, they had more of a connection to the country than they did to Denmark. Friends and the extended family were appalled by the heartless decision, and the case was referred to the Hjorring city court.
Again, the count ruled in favour of the immigration office's decision, and the deportation order was upheld. Last Sunday, surrounded by her friends, grandparents, cousins and scores of townspeople who had come to see them off, the mother and daughter were put on a flight to Bangkok.
Before they left, Danish TV reporters were able to speak with Im, who told them that she was very sad, adding she had wanted to stay as she loved her grandma and grandpa and her cousins as well as her school friends and knew no-one in Thailand. Neighbours, friends, teachers and everyone in the small community are angry that the decision was not reversed, and public feeling across the country is strongly in favour of Im and her mother.