Brit and US couple forced to close new business due to visa hassle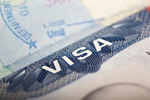 An immigration snag is forcing new arrivals in the USA Peter Krykant and Catherine Ligo to close their teashop after two months and return to the UK.
British Isles Flavours and Styles, an old-fashioned teashop in Southport's Howe Street, was opened by the couple just two months ago. Having lost an immigration battle due to a technicality, they must now sell up and leave the country.
The couple met in Brighton UK whilst Lido, a US citizen and professor, was working in the area. They married in Scotland and again in Southport where her mother lives, and stayed in the town to support Lido's mother after her husband died.
Kryant, staying at first on a tourist visa, applied for a business investor visa after the teashop idea became a project, and was advised this was possible without leaving the USA. Proof of the origins of his investment was demanded, and a new visa waiver stamp was needed as he has a minor police record dating from his teenage years in the UK.
The visa waiver had been granted four times previously and he had been cleared through background checks. However, immigration rejected his business investor application and informed him he could only enter the US as an already classified business investor, in spite of official written guidance to the contrary.
Resigned to having to leave and give up their dream, the couple are publicising their plight to inform other would-be business investors of possible similar problems. Immigration states there is no appeal, although their local senator, Mike McIntyre, is taking up their case with the US customs and immigration.
Krykant told local reporters the tearoom is now up for sale at less than half its value. According to Lido, if McIntyre's intervention fails, it's all over for them.