Newlywed US astrophysics graduate falls foul of Scottish immigration laws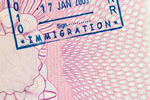 A newly-married couple who met and fell in love at prestigious St Andrew's University are being forced to leave the UK against their wishes due to Scotland's harsh immigration laws.
American Daniel Whitely is an astrophysics graduate from St Andrews, with his new wife, UK citizen Jenny, a graduate in management studies. The pair were wed in October and hoped to be able to settle and start a business in Fife.
However, with Daniel's student visa expiring in October, recent changes to the UK's immigration law mean he is no longer able to stay in the UK. The new system, introduced to reduce immigration, states that UK citizens wishing to bring their non-EU spouse to live with them must be earning at least £18,600.
During his studies in the UK, Daniel contributed a total of around £70,000 for his degree course, another £16,000 on accommodation and living expenses and paid £5,000 in national insurance and income tax. He and Jenny were planning to live in Fife after they returned from holiday in January, but it seems likely Daniel will be refused entry to the UK except as a short-stay tourist.
Understandably, the couple are distressed at the perceived injustice of their situation, although they are reconciled to the only available option of starting their new life together in America. Jenny will be able to enter the US with her husband and will receive a Green Card as the spouse of an American citizen.
The couple only realised they were in trouble when they spoke with the Lusaka High Commission regarding Daniel's visa whilst on holiday. No-one there was willing to help, nor was immigration in the UK, as the couple are not recognised as living in either country. The Home Office, when contacted, had no-one available to give advice.