Expats warned over financial pitfalls of reassignment to the UAE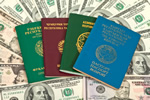 If you're a Brit heading to the Middle East on reassignment or after receiving the job offer of your dreams, your new situation will need consideration as regards tasks to be done before and just after you arrive.
Taking care of your financial situation isn't just about how much salary you'll be receiving in your new job, as there are issues to be sorted out as regards your pension and long-term needs, your tax status and even the making of a will. For example, once you're no longer employed in the UK it's likely you'll have to contract out of your employer's pension scheme. Allocating a monthly amount to a deposit account with a reasonable interest rate will ensure you're ahead on points when it comes to retirement.
Unfortunately, new arrivals in the emirates may well fall foul of bad advice recommending long-term investments which lock in your cash and charge high annual fees as well as paying your financial advisor a generous commission for doing very little. Waiting until you've been in the region for a while and got to know what really goes on will help you to make the right decision as regards your long-term savings. Before you leave the UK, you'll need to inform HM Revenue and Customs as to the exact date you became non-resident, thus ensuring you're not taxed in the UK on your overseas income.
If you've decided to let your UK home you'll need to report your rental income, and if you sell it you may be liable for capital gains tax, with a report needing to be made within 30 days of the sale date. Checking if your private health insurance will be affected by your move is another must-do, as is letting your agent known the exact date of your leaving.
Ensuring you've an up to date will is another task, as is making another will complying with UAE regulations, preferably after taking advice from a lawyer in your new country of residence. Once you've arrived, a first priority is finding suitable accommodation which balances monthly cost with your new salary. Most Dubai landlords demand six or even 12 months' rent in advance, leaving those working without housing allowances from their employer to find the amount themselves.