UK census highlights demographic effects of soaring immigration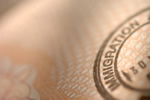 The recently-released results of the UK's 2011 census have highlighted the demographic changes brought about since the 2001 census by the rapid rise in immigration.
Figures showed that numbers of non-British born UK residents have soared by over three million since 2001, with one in eight residents born overseas. The 2001 total of foreign-born residents in England and Wales was 4.5 million, with the present figure standing at 7.5 million, 20 per cent of the population.
Poland, Pakistan and India are the most common birthplaces, with over half the population of London having overseas origins and just 45 per cent British-born. The findings by the Office for National Statistics, described the results as a changing, diverse picture showing a large proportion of the population of England and Wales was the direct result of immigration.
In an interview on BBC' Radio 4, Migration Watch spokesman Alp Mehmet stated the results demonstrate the need to bring immigration under stricter control. He said the cost of resources such as housing, schools and transport needed to support new arrivals must be considered, adding that, if integration was the aim, the scale of migration must be reduced.
Sunder Katwala from migration think-tank British Future says people must accept the moral responsibility of creating a shared society. Katwala believes there is no choice as, in practicality, immigration cannot be slowed, making an increasingly multi-national society in Britain inevitable.
Other findings of the 10-yearly census revealed that 13 per cent fewer people declared for Christianity, with those having no religious affiliation increasing by 10 per cent to 25 per cent of the population. Almost three-quarters of the population are in employment, home ownership has fallen by four percentage points to 15 million, and the numbers of people renting privately has risen by six per cent.