French election might lead to mass UK emigration and London Property Sales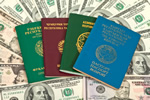 Now that the new French President Francois Hollande has pledged to increase taxes in France, the property market in London may see an influx of French nationals seeking to rent or buy.
London, which already has a significant French expatriate population, is expected to receive those fleeing Mr Hollande's election promise to raise the upper income tax to a hefty 45 percent and introduce a super controversial 75 percent super tax levy for anyone whose yearly income exceeds £1million.
France's tax increases may see even more French nationals looking to move to London, many real estate agents have speculated. Lucy Morton, who is head of lettings with central London estate agency W A Ellis, says London is already a chosen destination for French people. It will be very interesting to see what comes about, she added.
Real estate expert Knight Frank has discovered that in areas such as South Kensington, French investors have been the second largest group after UK buyers during the first quarter of 2012, making up 8 percent of property purchases. This year thus far, enquiries by French clients have reportedly gone up by 19%.