How to deal with pandemic-related stress during lockdowns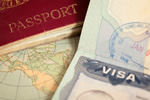 Tips on dealing with expat stress during the pandemic.
So you're stuck in a seemingly never-ending circle of unfamiliar work regimes, a lack of interaction with colleagues and friends, trapped within your own four walls and afraid to go out even if you're allowed to – and you're wondering why you're stressed? It's an expat dilemma rarely experienced before the pandemic struck and needs to be dealt with in a positive manner.
Adapting to what reporters and pundits are calling the 'new norm', isn't easy for those expats who love packed schedules and frequent travel to foreign lands, especially as they've now been taught that every human they encounter represents danger and possibly death. We're not programmed for this, and no single government is able to explain how to deal with it, possibly because they've no idea themselves.
The stress expats are feeling now is the physical response to the lack of the 'norm' in their everyday lives. Concentrating on developing a career whilst attempting to gear up for a worldwide recession could be seen as a waste of time, but creating your own environment in which you feel comfortable can mean improved functioning at a new level. Stress is essentially a fight or flight reaction and, for many expats, can produce exciting new ideas and solutions aimed at getting through the next several years without losing focus.