Number of Brits on overseas assignments sees dramatic decline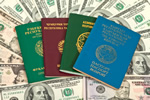 A recent study has revealed a significant decline in the number of British professionals being sent on overseas assignments.
Although the UK is now the third most popular destination for international expats, there's no drop in the numbers being sent by overseas employers to work in Britain. The UK's figure is just below the USA's total of expat incomers for work purposes, with China in second place due to its increasingly friendly rhetoric towards foreign investment and international business. Brexit, however, seems to already be having a negative effect on the numbers of Brits being sent on overseas assignments by their companies.
From a total of 13 per cent of all world oversees transfers in 2016, UK numbers for last year have dropped to nine per cent. Totals notwithstanding, the report acknowledges the increasing complications plaguing overseas transfers and relocations in spite of the fact that commercial growth is fuelled by employee mobility. Changing political climates and stricter immigration rules and regulations are threatening international mobility on a large scale by making processes far slower and less certain than in the past.
Global mobility teams are now being urged to be proactive in engaging business leaders from the beginning of any potential international assignment in order to ensure the process goes ahead in a timely and trouble-free manner. According to the CEO of a major relocation company, the intense speculation over the UK's post-Brexit place in the first-world environment doesn't mean Britain isn't open for business any more.
Although the fall in numbers of UK professionals being sent overseas isn't insignificant, it seems UK companies are exploring alternatives to long–term assignments such as business traveller options rather than committing themselves and their employees to an uncertain future in an increasingly unstable international climate.