Church leader: African leaders must address problems that spark emigration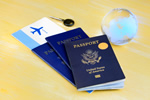 African leaders must look at the problems that lead to so many of the continent's people emigrating, said the Pontifical Council for Justice and Peace president Cardinal Peter Turkson on a recent visit to his native Ghana.
Cardinal Turkson claimed that the continent's leaders had remained too silent while hundreds of thousands of people desperately attempt to seek a better life overseas. He noted that even though the slave trade had been abolished, millions of Africans continued to take up menial jobs and were exploited abroad.
The church leader went on to say that for African nations, this sowed that human capital remained undeveloped and did not receive sufficient investment. He urged African leaders to come up with proposals to build their countries and provide hope of a better future for young people.
He said that, by nature, some politicians were shortsighted, which was why decent national vision was required to direct politicians' shortsightedness in order to get somewhere.
Europe is currently dealing with its worst ever migrant crisis, with thousands of people from all over Africa and the Middle East desperately seeking to reach the continent. Many of the migrants flee North Africa in unsafe boats in an attempt to cross Mediterranean Sea, but the journey is treacherous and thousands have perished in recent years.