Over half of graduate Irish accountants happy to emigrate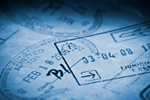 A new survey has revealed that over half of newly-qualified graduate accountants in Ireland would be happy to emigrate to get the job they wanted
.The chance to gain workplace experience with a reputable company was the most important reason for 84 per cent of the number of respondents who indicated their wish to leave Ireland. The status of their new employers was more important than a promise of additional annual leave, regular bonuses or other perks.
Only 16 per cent of those surveyed preferred to remain in private practice, with 41 per cent favouring industry and a further 43 per cent undecided as to which career path to take. According to recruitment firm BDO's consultant Chloe Liddy-Judge, qualified accountants are known to follow any path which leads to a successful career, even if emigration is involved.
Liddy-Judge added that one positive result of the survey was the fact that at least one third of respondents would sacrifice bonuses and perks and even work on a short-term contract to get a bright start to their professional career. The survey also noted newly-qualified accountants' salary expectations, which ranged between €35,000 and €45,000.
Taking into account all respondents' replies, 57 per cent would be prepared to relocate internationally to obtain the right position, with 14 per cent prepared to relocate nationally. Regarding contractual terms, 23 per cent would take on a two-year contract and 31 per cent would be happy with a year's initial contract.