Number of people emigrating from Ireland continues to grow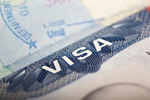 Figures released by Ireland's Central Statistics Office show that the number of people leaving the country was higher this year than last year. For the year ending in April, 46,500 Irish nationals decided to emigrate, a year on increase of 16 per cent.
The figure for all nationalities leaving Ireland hit 87,100 compared to the previous year's 80,600. The number of foreign nationalities departing from the Republic was 40,600, an increase for the third consecutive year.
The number of people immigrating to the country dropped to 52,700 from the 53,300 people coming in the year before. The number of Irish men deciding to move abroad rose to 26,000 from 24,500 a year ago, and the number of women departing the Emerald Isle increased from 17,500 to 20,600.
However, the number of people choosing to come home to Ireland is up for the third consecutive year to 20,600. The figure is still far lower than the 30,700 Irish who came back in 2007.
Of those entering Ireland over the past year 17,600 came from other countries across the European Union, 12,400 came from countries from outside Europe and just 2,200 crossed the border from the UK.