US may set tighter standards on cash for visas green card scheme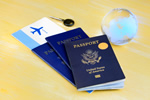 As reported by Fox News Latino, the US government could be tightening its standards on the so-called "cash for visas" green-card programme which was heavily criticised despite giving a positive boost to the local construction industry in many recession-hit markets.
The programme, referred to as EB-5, offers wealthy foreigners the opportunity to seek citizenship by investing money ($500,000 - $1 million) in business ventures such as wind farms, gas stations, ski resorts and office towers. Two years following the investment, the visa applicant must prove that the money has generated at least 10 employment positions before applying for citizenship.
Critics condemn the system as a "cash for visas" scheme, although a rising number of developers are calling it their saving grace during the financial crisis which has seen a dry-up in construction financing.
Henry Liebman, who has used the programme to construct over 30 retail and office developments in south Seattle, says the EB-5 is vital since it is the only funding available. He is now looking to use the programme as source of money for construction projects in four other US states.
The niche programme was created in 1990 and is currently available to 10,000 investors and members of their family per annum. It has blown up since the 2008 financial crash left the US dotted with delayed construction sites.