Virtual home viewing tours now all the rage for relocating expats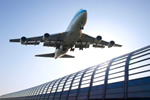 Virtual viewing for expats looking to move house is now the latest way to circumvent the pandemic's effect on everyday life.
With the door now closed on open-house viewings, virtual home tours are filling the gap for both potential buyers as well as real estate agencies' businesses. Given that Prague is now a favourite location for expats professionals in the tech sector, this 21st century tool is saving estate agency businesses as well as making it far easier for new expats to relocate.
It's a fascinating move on from simply listing photos and details online, helped on by social distancing regulations in favourite expat locations. Strict lockdowns were seen to spell disaster for estate agents serving the mobile expat population, with pre-pandemic virtual tours seen simply as a quirky way to attract viewings in real time. Nowadays, it's resulting in a large number of actual sales, as those wishing to relocate are often locked into their present countries of residence.
Now that virtual tours are up and running in the Czech Republic, realtors are beginning to believe they're the way forward for the entire sector after the virus has run its course. One realtor in Prague sees virtual viewings as sparking a whole new terminology for the sector, including 'digital open house', 'remote viewing' and suchlike. International clients, he believes, will now be seeking more convenient and safer ways to view a prospective new home overseas, ways which don't involve the expense and hassle of a long flight and hotel stay half-way across the world.