Expats in Nepal are refusing to repatriate to their home countries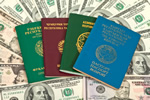 Many expats and tourists stranded in Nepal are now refusing to leave.
Nepal is proving a much-loved home from home for hundreds of expatriates and tourists, so much so that many are now determined to stay. Although the tiny, mountainous country is now three weeks into lockdown, its foreign embassies are having a hard job getting their nationals onto repatriating flights as a good number are simply refusing to go.
Since the last week in March, over 25 chartered aircraft have been flying visitors and expatriates back to Brazil, the Netherlands, the USA, Europe, Australia and New Zealand as well as Malaysia, Brazil and Bangladesh. However, many long-stayers and those who have small businesses are telling officials they've made their lives in Nepal and have no intention of leaving in spite of the pandemic. Another reason for many who're refusing to leave are the charges of up to $3,000 for an economy ticket to their home countries.
One British expat had been working as an English language professor in China until all Chinese universities were shut down early last January. She told reporters the Nepalese people had been understanding and friendly to all foreigners, allowing them to feel safe in the country. Many guest houses have been offering subsidised accommodation to foreigners as well as free food, and the little country's immigration department has said they won't be charged overstay fees when they do leave.
It's no surprise that many expats and visitors are reluctant to return to the worldwide chaos and confusion caused by the pandemic and the first world countries' seeming inability to tackle the virus head on. At present, a third of all embassy employees haven't yet left Nepal, although those with families have mostly been repatriated. Those who've decided to stay all seem happy with their decisions, with one Dutch volunteer at a home for the disabled saying Nepal is far more of a home to him than was the Netherlands.
Nepal's reputation for safety is another reason why many expats are in it for the long term, no matter what their embassies say. The Nepalese people are world-famous for their hospitality and welcome to strangers, and the country itself is stunningly beautiful and traditionally Buddhist in a rare manner. Another expat volunteer who was working in Tsum Valley is now back in Pokhara with other foreign nationals and told reporters there is no xenophobia in Nepal such as exists in many other world countries as a result of the pandemic.