Spain now officially the healthiest world country for expats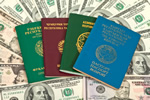 For British expats already loving life in Spain and those desperate to get there before the door slams shut at the end of this year, Spain is now officially the world's healthiest country.
According to the highly respected Bloomberg 'Healthiest Country' index, Spain is now the planet's healthiest location, topping out ahead of Italy and Iceland. It seems the main reason is the country's Mediterranean diet, rich in olive oil, nuts and fresh ingredients. The survey itself ranks 169 world countries according to their contributing factors to overall health, with five European member states in its top ten.
Switzerland won fifth place, Sweden came sixth and Norway ninth, with Japan, Australia, Israel and Singapore making up the ten winners. Unsurprisingly, the UK scraped just 19th place, a drop of four positions from the last survey, with the USA at 35th and Germany in at 23rd. Data used to rank the participants was produced by the World Health Organisation, the World Bank and the UN's Population Division, an impressive list of experts in the field.
Nations were graded via variables such as life expectancy, with penalties slammed
onto countries with a high rate of tobacco usage and obesity. Spain was rated to have the highest of all life expectancy at birth figures, with an anticipated 2040 lifespan of 86 years. Japan, Switzerland and Singapore were close behind, with reasons given as to the increase centering on a decline in reported deaths from cancer and cardiovascular disease.
Eating habits in Spain and Italy were praised as healthy and life-giving, with the by now famous Mediterranean diet credited for supporting Spain's excellent reputation for primary healthcare. Of course, British expats already living in Spain are fully aware they're far healthier than in the home country, but it's good to see the country's fine reputation praised in a reputable survey.