Expats learning Czech are facing an almost impossible task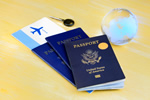 One of the most difficult aspects of relocation to a foreign country for many expats is the necessity of learning a foreign language.
Perhaps the most trying aspect of emigrating for work purposes is the chore of learning a foreign language, especially for those who came bottom of the class in their home country school's French lessons. However, to integrate successfully it's the only way, but expats heading for the Czech Republic will face far more difficulties than those accepting jobs in a number of other EU member states. For newcomers, the Czech language is a combination of sounds seemingly impossible to pronounce, untranslatable words and frustrating grammar intended to confuse.
Baffling idioms, consonant clusters, strange characters and crazy cases are all part of this admittedly beautiful language, with local children finding it equally confusing as language primers haven't changed in a century or more. Contents are still all about cooking, salt and meat, and starter expats are often taught in the same manner. In addition, rules about capitalisation are so complicated it's been discovered that some 70 per cent of native speakers are still unable to understand them. As if that weren't enough, the language is one of the few in Europe which distinguishes vowel lengths using symbols such as acute accents, rings and other squiggly notifications.
As a result, native Czechs don't quite understand the importance of spelling contests as the language uses a pronunciation and spelling system often used as a model by phonologists. Word order is flexible, unlike in the English language, with words being moved around in sentences according to the subject. Just to make learning Czech even more fun, the language has a good few totally untranslatable words, making it one of the planet's most difficult languages to learn. According to the US Foreign Service Institute, an educated English-speaking adult expat would need to study the language for 22 years at one lesson a week to become fluent.