British expats in EU member states now fearing the worst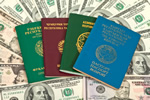 As 31 October looms with no end in sight to expats' chaos and confusion, some EU member states still haven't agreed reciprocality clauses.
Should Johnson get his way and crash out of the EU without a deal, free movement is due to end on 31st October and millions of EU expats living and working in the UK will become illegal immigrants. Worse still for Britons living in the EU, those who haven't managed to get permits will also be illegals without any rights at all unless granted by the country in which they're living. Much has been made about reciprocal agreements, but many EU member states have yet to make their mind up whether to allow British expats to stay. The post-Brexit treatment of British nationals will depend entirely on the generosity of their host countries and the fate of EU expats in the UK.
Unsurprisingly, expats whose lives are centred on their present EU country of residence have the most to lose, with one British couple and their child now living in Sweden feeling they've been totally ignored and overlooked by those in charge of Brexit. In the case of a no-deal exit, Sweden is giving British expats a one-year grace period during which they should apply for residency. However, during the year, applicants won't be allowed to travel out of the country, thus impacting expats with jobs which require travel to other EU member states. Applying for Swedish citizenship should be one way out, but applications take literally years to process.
Another female British expat living with her Czech boyfriend in Prague and working in the financial sector is dreading a no-deal exit as she fears she'll be separated from her partner as a result of being forced to return to the UK. For a Swedish/British couple and their daughter living in Stockholm, it's a little easier as the husband is able to stay as he's married to a Swedish national. However, the couple are worried about their many expat friends at present living in the UK, as well as the possible effects of a no-deal exit on getting visas to go overseas. The couple are angry at how expats' rights and lives are being used as bargaining chips by politicians.
A Scottish expat now living in Berlin says her German friends simply can't understand, thinking the UK's gone mad. She's hoping Scotland will break from the UK and rejoin the EU sooner rather than later, and appreciates the Berlin government's efforts to protect British expats from a Brexit fallout. Another British expat now living in Austria after a stint in Greece considers she's lucky as she has Irish grandparents, thus entitling her to apply for and receive her Irish passport. One retired British couple now living in Spain made the move just before the referendum, not dreaming that leave would be the result. They're now afraid, after the announcement all EU expats in the UK would lose freedom movement on November 1, they'll also lose their entitlement to stay in the country they now call home.