New Johnson policy is set to wreck the lives of expats in both the UK and EU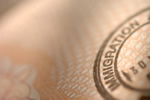 The news that the UK government aims to cut off free movement for EU expats immediately after a no-deal Brexit takes effect is causing fear of a backlash against UK expats by EU member states.
European citizens living and working in the UK are confused and anxious over reports the three-month extension of free movement post-Brexit is now off the table, leaving the majority in legal limbo on November 1. British expats in EU member states are now afraid of a backlash from their countries of residence, leaving them in the same situation. EU expats in the UK were expecting a transition period during which they could apply for settled status if they had five years' residency, but the immediate cut-off could mean around 2.5 million EU nationals having no way to prove they're legally in the UK.
According to campaign group The 3 Million, home secretary Priti Patel's new overnight border restrictions are reckless at best as well as potentially illegal as the rule would strip lawful citizens of their legal status overnight. Concerns were ratcheted upwards after the leaked internal government paper stated the move might well result in another Windrush scandal. According to a spokesperson from Imix, a charity involved with immigration communications, a hostile environment could be forced onto EU citizens living legally in the UK as there's no specific system distinguishing between those who've arrived pre-Brexit and those arriving on November 1.
At the same time, British expats living in Europe now feel their fates are being totally disregarded by Johnson and his advisors. This latest threat to their right to remain post-Brexit in their chosen country comes after many of those countries have agreed the right will continue as long as the UK treats its EU expats as promised. In his maiden speech given outside no.10, Johnson assured EU expats of their rights to remain, but forgot to mention UK expats in Europe, with MP Alberto Costa now stating the rights of every Briton living, working or retiring in Europe will end abruptly if Johnson's plan for EU expats is allowed to succeed.