American expats looking to unseat Brits as Portugal's favourite foreigners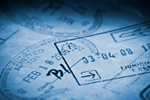 As British and European would-be expats head for Latin and Central American retirement destinations, USA pensioners are finding Portugal suits their needs.
Portugal has long been the retirement destination of choice for British expat pensioners, with the Algarve and Lisbon the top favourites. With the Brexit scenario still undecided and looking to stay that way, Brits are now looking further afield and US retirees are choosing to fill the gaps by including European destinations in their retirement research folders.
A recent Forbes survey included Portugal in its list of two dozen of the best retirement hubs for elderly American citizens, along with the Philippines, New Zealand and Argentina. Points considered by American respondents included political stability, ease of being accepted as a permanent resident, quality healthcare systems, the cost of living and the number and routes of flights to the USA. Tax. it seems, was am overall problem, as only a few countries have a tax treaty with the USA at present.
Climate came first with Belize, Chile scored with its healthcare provisions and Costa Rica' s beaches were praised, as was Croatia's low cost of living and Ecuador's decision to allow expats to use its free healthcare services. Portugal was one of the few countries mentioned which does have a tax agreement with the USA and is likely to be a main choice as a result.
The fact that the Algarve in particular is crammed with Brits having the time of their retired lives perhaps wasn't mentioned in the survey, but it's a moot point that both countries are now in political chaos due to their so-called leaders, a fact that might well lead to discord between the two expat communities!