Shanghai expats and locals get together to celebrate Lantern Festival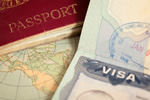 In a demonstration of the friendship between expats and Chinese resident in Shanghai's Pudong New Area, both communities celebrated the Lantern Festival together.
As Europe and the West in general get more xenophobic by the hour, a Shanghai community of locals and foreigners celebrated an annual festival together as friends and neighbours. Most expats in the area live in Yanlord Garden, a development in which 60 per cent of the residents are from overseas, with local police the unsung heroes for their support and help for expats needing visa or registration advice. They're also popular for showing newcomers the best way to make rice dumplings and providing bilingual help leaflets where necessary.
One local community policewoman told reporters cultural events give the perfect opportunity to meet foreign residents and get to know how to help them. Through meet-ups at communal events they give legal advice and tips in order for long-stayers to pass on their knowledge to new arrivals. One officer said she'd helped one family to get their pet dog registered, adding she's happy to translate police notices into English, a language she used to teach before she joined the police. She hopes foreign residents will regard locals as their families, saying 'we'll always be there to help them'.
An American expat who's lived in the area for 10 years told the media she finds Chinese culture fascinating and loves its annual and regular events. She appreciates the efforts the community police make to ensure the expat community has all it needs as regards information and support. Newcomer Patricia Ramos has recently arrived from Brazil and speaks highly of the community police officers and social workers, especially regarding registration and other official necessities.
In another Lantern Festival event held at Shanghai University, 100 expat students from 30 world countries donned traditional Chinese outfits, made lanterns, guessed riddles and practised their language skills by writing the character 'fu', meaning good luck. Traditional games were played, traditional festival food was eaten and everyone, whether expat or local, was made to feel they belonged. For expats elsewhere in the world who're feeling less than welcome in their host countries, the Chinese acceptance and support of expatriates is truly an eye-opener in these troubled times.