Anger and dismay ramps up amongst retired expats in Thailand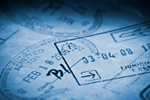 A report of a 90-year old expat being forced to leave Thailand due to the visa changes is causing anger and dismay in the expat community.
A new report by a 90-year old expatriate retiree in Thailand stating he will be forced to return to his country of origin due to last week's retirement visa changes has ramped up expat sentiment against the immigration department's arbitrary ruling. The post was made on English language newspaper The Nation's 'Your Say' page, with the poster signing himself Don, but gives few details. According to the paper, the new immigration rules will force 'Don' to head home, quoting him as asking whether the Thai immigration police can help him by suggesting where he should go, but the paper didn't give the reason why he believed he couldn't comply with the new regulations.
Irrespective of who 'Don' is, where in Thailand he lives and why he feels he's being forced out of the country, his plight spurred posters to one of the country's most popular expat forums to debate the controversial issue all over again. Some expressed their own anger at the lack of stability for long-term retirees in the country, others wished 'Don' well in whatever he decided to do, with many pointing out that the old rules of an 800,000 baht deposit in a Thai bank account for three months before the due date of a retirement visa renewal was to ensure applicants had enough capital to support themselves for another year. Dismayed visa holders pointed out that they now only have 400,000 baht for their total annual spend as the other 400,000 has to be left in permanently, thus cutting their monthly budgets by half.
Long-stay retirees with more than satisfactory incomes said they'd had enough and were considering leaving, and others were concerned about their Thai wives and children's futures should they decide to relocate. At the same time, another thread was started by other expat, saying he was disgusted at the way elderly expat retirees were treated in the country formerly known as the Land of Smiles. Other posters pointed to immigration's new motto, 'bad guys out and good guys in', stating the entire retired expat community now seems to be regarded as 'bad guys' and questioning who and where the 'good guys' are.
It was also noted that neighbouring Cambodia welcomes retired expats and makes it far easier for them to stay. Would-be expats retirees can now compare online reports pushing Thailand as the perfect retirement destination with the increasingly threatening reality of constantly-changing rules and the feeling they're only welcome if they're filthy rich. Along with the two small surveys carried out last week by a countrywide expat forum, today's revelations could well force a good number of aspiring expats now considering Thailand as an alternative to post-Brexit Britain or Trump's America to change their minds and choose another Southeast Asian country.