Ponzi schemes steal millions from expats in the Gulf States region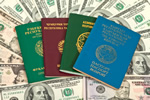 Muslim investors all across the Gulf States poured their cash into Ponzi schemes set up by Heera Group and lost the lot.
Many thousands of expat workers and citizens in the UAE and other Gulf States were enticed into investing in financial instruments promising 'guaranteed' 36 per cent returns. The so-called investment plans were advertised as Sharia-compliant, thus persuading novice savers to trust Heera Group with their life savings. When the scheme failed, Heera's CEO denied having received any money from would-be investors in any of the group's products.
Indian investigators believe investments made by UAE residents topped DH70 million, receipts from Saudi Arabia netted another Dh 24 million and savers based in India accounted for a further Dh2.9 billion. At the same time, Heera's CEO Nowhera Shaikh is claiming her company took no investments at all from savers living outside India. Before her arrival at a court in Andhra Pradesh, Shaikh challenged India's Central Crime Station to prove all the allegations against her. She is denying she was the recipient of Dh265 million from expat investors living outside India, saying she didn't receive even Dh263 from such persons.
Her statement enraged a large number of Gulf investors who'd been taken in by the scam, many of whom had used cash from money lenders or bank loans to invest in what was represented as the opportunity of a lifetime. One furious Dubai-based bus driver who'd lost all his savings told reporters it's bad enough all his money is gone, but hearing her denials is just too much. He's lost his job as a result, and now has no savings to live on. Another devastated investor told the media he'd lost everything and the CEO's denials were like rubbing salt into wounds. He added he's filing a complaint with the police.
One scam, entitled Heera Gold, promised monthly payments of Dh3250 for every Dh100,000 invested, with Heera Textiles guaranteeing annual returns of between 65 to 70 per cent and Heera Foodex mooted as yielding up to 80 per cent per annum. It's not yet known whether any Western expats were caught up in the scam, but it seems unlikely due to its Sharia based advertising and obviously excessive promised returns.