New arrivals and established expats in China fear arrest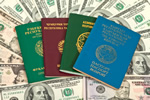 With three Canadian expats now arrested by the Chinese authorities, concern is heightening amongst the entire expat community.
The expatriate community in China is accustomed to a level of uncertainty and occasionally fear, but the arrest of a third Canadian expat is causing increased concerns as to whether more will be detained on what may be just a technicality. Sarah McIver was detained for supposedly working illegally, with her arrest following on from the detention on national security grounds of two Canadians. According to Canadian authorities, McIver's detention is simply a routine visa case, but Western expats are now keeping a lower profile and censoring their posts on social media.
The first two Canadians arrested, both of whom are charged with endangering China's national security, are China-based business consultant Michael Spavir and International Crisis Group think-tank member Michael Kovrig. Chinese officials haven't linked the three arrests, but suspicions within the expat community and in overseas media outlets suggest at least the first two were retaliation for the recent arrest in Canada of top Huawei executive Meng Wanzhou.
Lack of more details has exacerbated unease in the expatriate community, with a number of Canadian expats already making plans to leave the country before the situation gets worse. However, the majority fear overreacting more than the danger of being arrested and are simply keeping their heads down whilst awaiting developments. One expatriate financial analyst told reporters the feeling that something might happen is just a part of living and working in ,China, adding he keeps the feeling at the back of his mind.