Wanderlust is part of the motivation for many would-be expats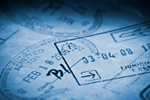 Living and working overseas can be immensely rewarding as well as frustrating at times.
There's more than a little wanderlust buried under the career enhancement and loads-a-money ambitions of many would-be relocating expats. However justified career and financial goals are, the wish to wander outside a familiar comfort zone and see how the other half lives can be too strong to resist. Unfortunately, once the decision is taken and the online job boards have come up with a solution, the basic, boring necessities of emigration take over.
Wherever you're heading, the need for vaccinations should be taken seriously, as even first-world city-based destinations in Asia, Africa and South America harbour bugs which can cause discomfort or even death. It's important to get immunisation done whilst you're still in the home country, as vaccines may not be all they should be in your chosen new home. In particular, your tetanus booster is essential.
If you're lucky enough to get shipped overseas by your present employer, your work permit will be taken care of, but if you're going it alone you'll need to research all the documents needed and ensure they're stamped and sorted as required. Once you've arrived, there's one social gaffe to avoid at all costs – uninvited comparisons between your new culture and your home country. Invariably, this is taken as criticism, and doesn't win any new friends who might just be important to you in the future.
Navigating a totally new language is a nightmare, even if you've taken a course before you travelled, with downloading a language-learning app a good start for beginners. You'll need to get information from other expats who've been there and done that, and joining a local expat association can help. If there isn't one, expat social media groups can be almost as useful. Having a back-up strategy for getting your hands on emergency cash is essential, especially if you're unlucky enough to lose your debit card or your home country bank makes a mistake and blocks it.
MoneyGram and Western Union are found all over the world, but checking on money transfer laws in your chosen country before you leave home rather than in an emergency is the way forward. Another tip for making the most of your cash by avoiding the inevitable transportation double-pricing for Westerners is to download taxi apps such as Uber and, for Southeast Asia, Grab. Again, local expats give the best advice on which one is best for your needs. When you're moving to a totally different country, covering your back as much as possible before you leave makes for a successful transition.