Are expats falling out of love with the Land of Smiles?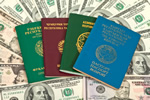 A recent survey by a Thailand-based, expat-oriented online forum has revealed fewer expatriates than ever before are choosing Thailand as a career base or retirement hub.
The bi-annual survey's 2016 version first revealed that all was not well in the Land of Smiles' expat communities, as a good number of respondents stated their intention of leaving some time in the not-too-distant future. Results of the 2018 survey indicate that, not only are fewer expats arriving to work or retire but that significant numbers of expatriates are packing their bags and leaving. In addition, the numbers of Western tourists choosing Thailand's beachside resorts and islands for their holidays are also in serious decline.
It seems shifting market trends caused by the increasing cost of living combined with changing demographics favouring Chinese and Indian tourists have taken the gloss off the Southeast Asian country's reputation as a favourite visitor and expatriate destination. Political instability and the poorly timed tightening of visa rules are hitting hard on expats, many of whom are crossing the border in the general direction of Cambodia and Vietnam. Commercial opportunities for expat investors and top talent are also in decline, leaving the country walking backwards towards its core of Western retirees living on their pensions.
Nowadays, only one in every five expatriates in Thailand is less than 50 years old, whereas two years ago the survey found 33 per cent were under 50 and 10 per cent were under 30, indicating that the majority were working and contributing to the country's development. However, the same survey reported some 66 per cent of working expats were considering moving on, with the current results suggesting they've now left the country for fresh fields and pastures new elsewhere in the world.
Bangkok and Pattaya are still top locations for expatriates, and almost half the survey's respondents are married to Thais. Smaller numbers are living in Chiang Mai, Hua Hin, Phuket and Krabi, and just over half of those surveyed have health insurance, much of which is through company-sponsored relocation. In 2018, speculation that health insurance will become mandatory for all expatriate is causing grief and worry amongst retirees on fixed pensions with little capital backing their lifestyles. At the same time, Chinese and Thai investment in sparkling new private health facilities is on the increase, as are the already high fees for their services and the cost of locally-provided private health insurance.